Today we have five generations that make up our population. Because these generations have different experiences, they have different ways of analyzing situations and making decisions. 
Generational differences can have a big impact when making purchasing decisions. Take a look at how one family approaches buying a new car to see this in action: 
Grandfather, the Silent Generation
This is David. Tradition is important to him and he makes decisions based on past experiences or advice of trusted friends and family. He appreciates a company with a long history of quality and customer satisfaction. 
You can influence his decision to become your customer by providing good service and showing that customers trust your company. 
Father, the Baby Boomer
This is Adam. He is focused on making the right decision for his family, and product quality and value for money are most important to him. David does thorough research (primarily offline and some online) before buying. 
To help him feel confident in purchasing from you, tell him why your car is the best among others by pointing out the additional features, such as safety or an efficient gas mileage that might be lacking in other cars. He will appreciate the opportunity to try the car out for himself through a test drive or demonstration. 
Son, the Gen Xer  
This is Jason. He researches extensively online using search engines, social media, and online reviews. Quality is most important to him and he wants to know he's buying the best. Adam compares brands before buying to make sure he's making the right choice. 
Help your brand stand out by having an active online presence along with offline showroom outreach to help Jason feel confident in purchasing from you. 
Daughter, the Millennial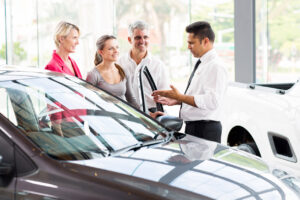 This is Rachel. She appreciates the convenience and information available when online shopping. For her, positive online customer testimonials are a more trusted way of knowing the product. She's tech-savvy and will look for more advanced features. 
Be active in your customer reviews, respond thanking customers for feedback, and show on your website how you're applying it. Using advanced technology such as AR/VR for showcasing your car will show Rachel how you stand out from your competitors. 
Granddaughter, Gen Z 
This is Emma. She's the youngest prospect and may not be a direct decision-maker, but she could be an important stakeholder. She appreciates how social media can clue her into trends and provide information on first-hand customer experiences. 
Show Emma how you stand out from the crowd through a stellar social media presence. Partner with trusted influencers and engage with customers on all popular social media platforms.
Use this information to create an impactful presence online or in your local community. When you know what the buying process looks like for each generation you can better tailor the experience to your customer. Different customers will want individualized experiences, but one thing is common among all the generations: the importance of great customer service.