SELL WHILE YOU SLEEP
E-Commerce
Expand your business and reach — even while you catch some Z's — with a customized e-commerce storefront.
MAKE BUYING EASY
Grow Online
80% of web users have made a purchase online. Enable new and repeat customers to purchase day or night, from the comfort of their desk chair. Or couch. Or bed. Or backyard. You get the idea.
Whether your business is B2B, B2C, or a mix of both, we have you covered. Our team of professionals will help you through the entire process and ensure you're selling online with ease — and connected automatically with your vendors. We do our best to make selling online a hands-off process.
Increase Customer Satisfaction and Reach New Customers.
Sell Outside of Your Business Hours. Stay Open 24/7, 365 Days a Year.
Decrease Your Physical Costs and Eliminate Your Consumers' Travel Costs.
From Selecting to Purchasing and PCI Compliance, Your E-Commerce Store Integrates with Your In-House Systems.
Pass Information Automatically to Vendors, and Even Capture Electronic Invoices.
Streamline Communication to Your Marketing and Print Divisions.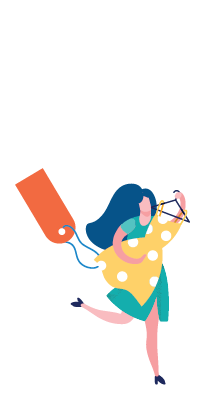 Shopping online is simple, easy, quick, and convenient for your customers.
Make it easy for your business, too! We'll help you create a B2B or B2C online store adapted and customized for your customers. Our plans fit your business needs today and scale to grow with you. You dream — we'll build!
Number of Global Digital Buyers in 2018:
By 2021, That Number Is Expected to Reach:
Percentage of the World's Population that Buys Online:
Percentage of Retail Site Visits from Smartphones in 2019:
oh the possibilities
That Shopping Bag is Getting Heavy.
PUBLIC INFORMATION WEBSITE. PUBLIC (B2C) STOREFRONT. UNLIMITED PRIVATE (B2B) STOREFRONTS
INSTANT PRICING CALCULATORS
CONSTANT INNOVATION UPDATES
FULL CUSTOMIZATION FITS YOUR NEEDS AND YOUR CUSTOMERS' NEEDS
MORE THAN SOFTWARE TRAINING, WE OFFER UNLIMITED SUPPORT
FULL INTEGRATION WITH YOUR MIS AND WORKFLOW
Get In Touch 
Get a Free Estimate or Schedule an Appointment 
Round Table Discussion
Choose a FREE 15, 30, or 60-minute call to see what we can do for you.
Schedule A Needs Analysis
We will do an in-depth dive on your unique business process where we will identify where automation can fix your pain points and improve your ROI.